Ed's 1990 Porsche 928S4: Summer Wheels / Mirrors / Ignition / Keyless Entry
---
You can click on any of the images on this page to enlarge them to a larger size (typically, 1280×1024). All photos were taken with an Olympus D-600L digital camera and then adjusted for appearance (typically, gamma corrected, contrast adjusted, saturation adjusted).

Send comments/questions to Ed Scherer.
Go back to the "Ed's Porsche 928" index page.
January through July 2000
As I've upgraded a number of things over the last few months, I thought it was time for some new photos.
New Summer Wheels and Tires
Wheels are Kinesis SuperCups, 17x9 front, 17x10 rear.
Tires are Bridgestone Potenza S-02 Pole Position, 255/40-ZR17 front, 265/40-ZR17 rear.
Package purchased from 928 Specialists.
Note that I had to disable the RDK (tire pressure monitoring system) since these wheels don't have the pressure sensors like the stock wheels.
Add a Mascot (Jumbo Size)
New Donnelly Electronics ECT Rearview Mirror (and Valentine 1 Radar Detector)
First three photos show original Valentine 1; second two photos show the thinner, newer-model Valentine 1.
New Aero Side-View Mirrors, New Rear Wing
| | | |
| --- | --- | --- |
| Hint: to remove the side-view mirror glass, insert a flat-tip screwdriver through the hole in the bottom of the mirror into one of the slots in the retaining ring on the back of the mirror glass. Move it to one side or the other to rotate the retaining ring; this will release the glass. The animation to the right shows how this ring works. Note the slots at the bottom of the ring. | | |
Replacing The Fuel Filter
Replacing Ignition Wires, Coils, Distributor Caps, Distributor Cap Rotors, and Spark Plugs
Keyless Entry System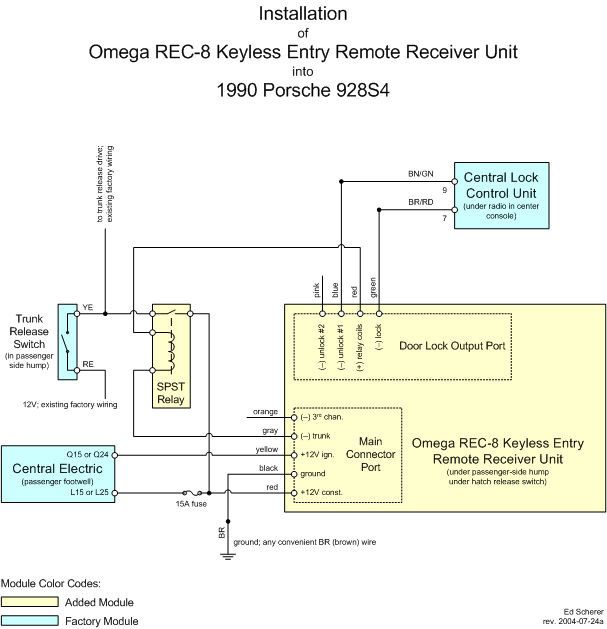 Go back to the "Ed's Porsche 928" index page.